Thanks to Nutaku for Kink, this free to play game which is out of the ordinary by its luxurious charm! You can find it on PC or on android to play it everywhere.
KINK STORY:
You are walking quietly at home when suddenly two hands grab you and drag you into a room. There, two pretty sexy bombshells approach you and stick their big breasts on your body.

You think that they have the wrong person, but they insist on fucking you. Then a wild hentai scene begins…
And you quickly find yourself sandwiched with one who wets in your mouth and the other who sucks you greedily. You all cum together when suddenly, your secretary dares to interrupt you.
Still full of cyprine, you finally get up and chapter 1 begins. Indeed, as a great political personality you will have to give of your person.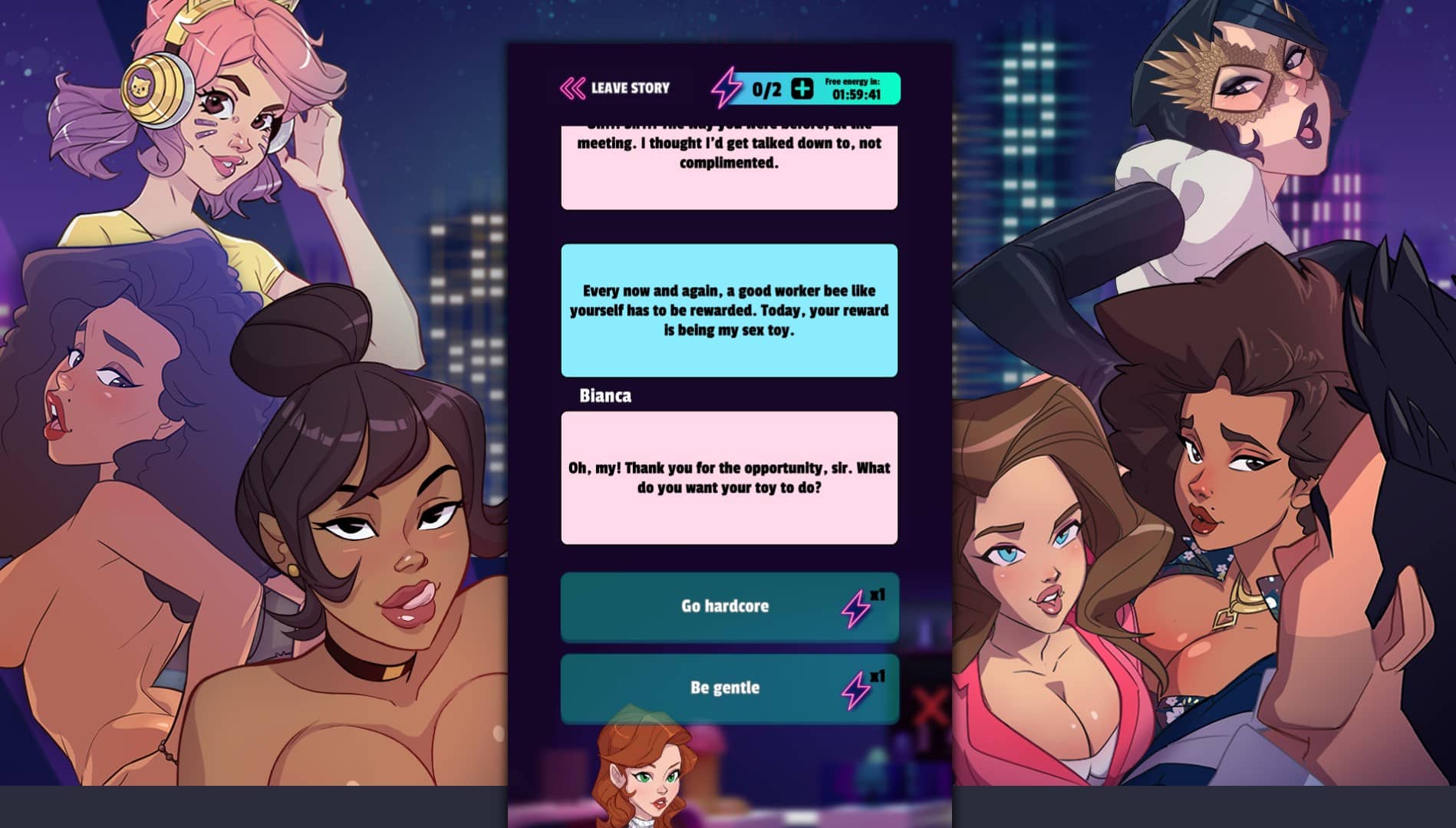 KINK GAMEPLAY:
At the beginning the game takes a long time to start, because you have to open yourself little by little some shops and entertaining places.
And frankly at the beginning it's quite slow to start but it's worth it. The goal of the game is quite simple since in order to navigate from chapter to chapter, you will have to fulfill certain objectives like having a certain number of voters for example.
On each map you will be allowed to invest in several different stores in your city.
To do this you will have to click on the little yellow rectangles as you go along to unlock income, but also have a potential chance to unlock the next shops.
The goal is to have as much cash as possible! There are no special tactics, it's a pretty simple game where you just have to click to accomplish whatever you want as long as you intensify your lucrative empire.
As you grow in the game, you'll be able to meet new people and expand your professional and sexual networks.
An added bonus is that you can have private conversations with the girls… During the conversation you can spend energy to answer them and make choices. These choices will reveal hentai scenes little by little.
KINK HENTAI:
Kink regales us with hentai scenes! On the other hand, contrary to the usual free to play, the sex scenes are particularly "luxurious" even in their design.
The scenes are uncensored and well and truly present throughout the game.
GRAPHICS:
This hentai game has quite simple graphics, but they fit perfectly to the game. We can also note the colors that are particularly flashy in all sections of the game.
AUDIO:
The audio is maybe a little too basic, but it's still pretty good for this style of video game.
HENTAI GAMES REVIEW:
A nice little free game to pass the time to know! Colorful and flashy graphics in a muffled atmosphere with particularly hot hentai scenes. In spite of a rather basic background music, we manage to dive into the game.
| | |
| --- | --- |
| Story | 16/20 |
| Gameplay | 17/20 |
| Hentai | 17/20 |
| Graphics | 18/20 |
| Audio | 15/20 |
| Total | 16,5/20 |